Packaging 101
Why do we need packaging?
Packaging Facts & Figures (2014) New
Corrugated Boxes Canada
Paper Bags Canada
Paper Boxes Canada
What do you mean "cardboard" doesn't exist?
Where does packaging come from?
Paper packaging comes from a renewable resource
The Truth about Trees updated
Re-growing the forest updated
Canada leads the world in forest certification
Forest Certification Standards in Canada
The biggest consumer of the forest is not the forestry industry (surprise!) updated
Setting the record straight on deforestation updated
Responsible sourcing of raw materials updated
What's paper packaging made from?
What's paper packaging made from? updated
Most Canadian boxes and cartons are 100% recycled content
Canadian paper packaging mills near 80% average recycled content
What you can say about recycled content in Canada updated
Only 11% of Canadian boxes, bags, and cartons are actually made from freshly-cut trees
Made from renewable energy (biomass, hydro)
How is paper packaging made?
Paper Packaging Flow Chart updated
What happens at a packaging mill
What happens at a converter (or box plant)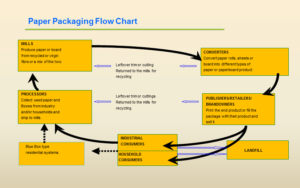 Some 76% of the paper packaging made in Canada is made from recycled pulp, from the old boxes and other used paper material collected from the back of factories, supermarkets and office buildings, and from curbside Blue Box programs and drop-off depots.
read the rest here
Packaging mills produce three main types of board or the raw material from which the packaging is eventually made.
read the rest here
This is normally an entirely different plant from a packaging mill although it may be owned or have an ongoing commercial relationship with a mill company or board supplier.
read the rest here
The 3Rs (Reduction, Re-Use, Recycling)
Reduction: making do with less updated
Corrugated Re-trippers
Re-use not necessarily "environmentally friendlier" than recycling updated
Sanitisation issues updated
Most paper packaging is recyclable and/or compostable
What "recyclable" means updated
Virtually 100% of Canadians can now recycle paper boxes, bags, and cartons updated
Pioneering the recycling of old boxboard cartons updated
Wax alternatives are recyclable updated
PPEC wants old boxes banned from landfill updated
Where does used packaging go? updated
Used paper and board are both imported and exported
The composting alternative updated